Formal announcement time! The plans for this exciting news have been in the works for quite some time now, and today is the day I finally get to tell you all about it. Drum roll please....
This summer, I will be hosting my first-ever design workshop!!
Professional Interior Designers have the confidence to make
hundreds of decisions on a daily basis
, for multiple projects. Wouldn't it be nice to know how we do it? Many of you have asked me before,
"How do you KNOW that something is right for a project?"
The truth is that a lot of what I do is intuitive, but there is a
proven method
to getting the best results possible for your project. (Hint: it starts with
trusting your instincts
!) I want to show YOU how to turn
down the volume on the external noise and opinions
, and
turn up the volume on your own decisiveness
and preferences.
Design Confidential will give you the courage to fearlessly listen to your own creativity!
So, what exactly will we be talking about in
this workshop
? Here are the details:
1. Finding Inspiration
Wouldn't it be nice to know where to look for ideas, OTHER than on DIY television shows and home design magazines? Your home should reflect your lifestyle, not be a knock-off of something you saw on tv or read in a magazine.
Designers find inspiration literally EVERYWHERE, and I want to teach you how to train your eye to see the world the way designers do.
Special Guest Speaker,
Tina Lagasse of Dixon Smith Interiors
will be joining us to share her best tips on how to get inspired!
2. The Fundamentals of Color
There is a reason we all love neutrals so much: they require very little courage for the commitment involved in using them. However, designers have a knack for knowing how to choose the RIGHT neutral, and then blending color into the design to reflect a clients' personality. We make it look so easy, don't we?
It's time to break free from the standby list of neutral colors and really learn how to work with actual color.
I'm going to show you how it's done! You'll also have the unique opportunity to learn from
True Colour Expert Andrea Brooks
during our Q & A session with this talented designer.
3. Organizing Inspiration
How do designers filter the choices available to them? Many homeowners dive right into a project without properly organizing their thoughts into a plan of action, only to find themselves completely overwhelmed with options at every turn. In this workshop, you will not only see how we pull it together, but you will actually MAKE your own project inspiration board with the help of our guest speakers, using paint, flooring, fabric, and finish samples, as well as my arsenal of fashion and design magazines (remember, inspiration is everywhere!).
You'll be armed with knowledge and a plan by the time you leave the workshop!
Licensed Interior Designer,
Becky Walker of The Design Studio
will be on hand to offer her advice on how to manage your project like a commercial interior designer.
4. Identifying Your Personal Style
The final segment of this workshop will give you the discretion of a professional designer to know when a design trend will work in your life, and when a trend has become a fad (and when you should say no). Avoid costly mistakes by using insider tips as you plan your next project. You don't want to be the person with the "newly finished project" that is so last year.
I'm going to show you how to be ahead of the trends, securely confident in your choices.
Nationally recognized designer
Ann McDonald, of Ann McDonald Interiors,
is joining us to share her fool-proof system
for creating a truly custom life.
Each of these incredibly talented and experienced designers will be giving us their unique perspective on the different topics of our workshop. You will be learning from not only me, but several other professionals, about the REAL process we use to create stunning interiors. You'll have the unique opportunity to speak to them one-on-one in our hands-on approach to teaching! (You can learn more about all of my sponsors
here
and
here
.)
...and if that's not enough...
In addition to everything here each attendee will receive:
- 1 Design Confidential notebook and pen, for note-taking
- 2 Sherwin Williams Color Fan Decks
- Materials to create a design board
- Tote Bag of Design Goodies
- 1 Scented Candle from Delerium Candles
- A "Style Ambassador" Certificate for completing the workshop
You will also be entered to win: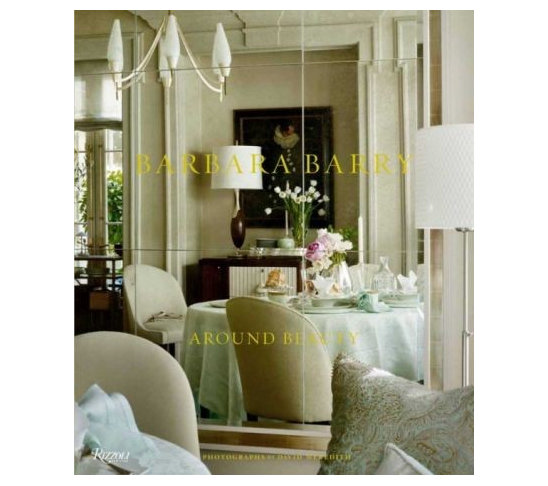 Barbara Barry, Around B

eauty
Kelly Wearstler, Hue
And Ann McDonald is giving away one complete
Decorate Like a Pro
system to one lucky attendee!! This is not to be missed!
I am so excited to be offering this wonderful learning experience to you!
If you are a design junkie, or if you've ever started a project only to find yourself

stalled

in the middle of it, overwhelmed by choices, THIS IS THE WORKSHOP FOR YOU!
Mark your calenders now - July 20th is our date!
Or register at one of our fabulous sponsors in Baton Rouge:
If you're in Baton Rouge, you can register for Design Confidential at any of these locations:
7809 Jefferson Hwy, Suite D2
This workshop will be limited to 50 participants, so I hope you'll be one of the first to sign up!
I hope to see all of you there!