noun
1. an
infinitesimal
or
very
short
space
of
time;
a
moment
2.
the
point
of
time
now
present
or
present
with
reference
to
some
action
or
event.
3.
a
particular
moment:
at
the
instant
of
contact.
4.
a
food
or
beverage,
especially
coffee,
specially
processed
for
quick
preparation.
Last week

, I had the privilege of accepting an invitation to attend Hickory Chair University. This two-day lecture and tour of the legendary Hickory Chair Furniture Company ranks among the best experiences I have ever had in my professional career. In addition to the thrill of seeing their exquisite furniture being made meticulously by hand, I was enthralled to listen to the history and evolution of this 103 year old American company.
Hand-tufting in Hickory Chair's upholstery department. This can take as long as five hours for a talented upholsterer to complete. Photo by Rachel Cannon Lewis.
Above all else, I want you to understand why I titled this post "The Myth of Instant Gratification."
Things that are "instant" are also fleeting. The craftsmanship of Hickory Chair's furnishings involves a level of skill and patience that we are seeing less and less of in our world of instant everything. As I listened to Hickory Chair's Marketing Director (and undefeated champion of all trivia related to the company), Laura Holland, give example after example of how Hickory Chair has adapted to sweeping changes in the design and furniture industry, production of their product, and implementation of employee-driven problem solving, I realized something. Companies like Hickory Chair, while at the top of their game and widely held by the design community as a shining example of success, also understand that success is not defined by one single meteoric moment in the life of a company or career.
The very first note I took during our lecture was this quote from Laura:
"Quality is about improving the process, not just the product.
Add value to your product by doing your job well."
Everyone at Hickory Chair knows that a piece of furniture is only as good as the person making it. At every measurable step in the factory, their craftsmen and artisans are working constantly to improve the process.
The Employees Dedicated to Growth and Excellence program (EDGE) has allowed Hickory Chair to reduce cycle time, eliminate waste, and improve the quality of their furniture - all through the suggestions and ideas of the people making the furniture. Genius! By allowing their employees to suggest ways to make their jobs more efficient, Hickory Chair has created an environment where every person knows their value to the company and to us, the client.
A craftsman working on the inlay detail on a leg. This process will take anywhere from 15-20 minutes per leg. Photo by Rachel Cannon Lewis
Each craftsman we visited wore the smile of someone taking great pride in his or her work, and we could sense their excitement to share their expertise with us. All Hickory Chair furniture is built using kiln-dried solid hardwood, a hallmark of excellent quality and heirloom capabilities. Each piece is highly labor intensive, created with care and subject to exacting standards.
All finishes are applied in layers and by hand. Casegoods do not touch the floor of the factory at any point during their finishing process, and are shipped on the palettes they are sitting on here. Photo by Rachel Cannon Lewis
When the naked frame of a piece of upholstery is as gorgeous as the Hickory Chair piece on the left, you know the finished piece will be stunning. Notice the number of back supports in Hickory Chair's frame, and the number in the competitor's frame. Photo by Rachel Cannon Lewis.


Hickory Chair's upholstery frames are made of solid poplar or maple, as opposed to the now commonly used plywood shown on the chair on the right above. Solid woods are important for several reasons: (1) A frame of kiln-dried solid poplar is not only higher quality now, but in the future when reupholstery might be an option, it will take the new upholstery as well as it did the first time. Plywoods will fall apart during the reupholstery process, and fabrics will lose their shape over time. (2) Stability is key when it comes to upholstery. The frame of the chair on the left supports an 8-way hand-tied spring construction in the base of the seat. This prevents the cushion from sagging, pulling or rolling around with body weight, and adds comfort by keeping the hourglass-shaped springs from losing their shape.
A competitor's version of 8-way hand-tied springs is sloppy and does not follow the meticulous standards that Hickory Chair expects. We counted only one spring that was tied in eight places. Photo by Rachel Cannon Lewis.
Amazingly enough, we were informed that these two chairs retailed for about the same amount on the market, but are worlds apart when it comes to construction and quality. When you buy Hickory Chair, you are buying furniture that is made to last.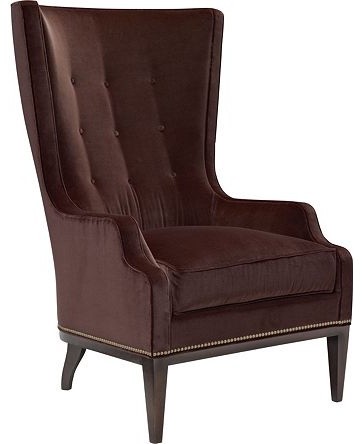 And here is the Elliot Wing Chair, beautifully upholstered in rich chocolate velvet. Source
(L-R) Laura speaking with the lead hand painting artist; A perforated vellum sketch receives a dusting of powder on a door panel; The outline of the motif which will be used to guide the artist's hand; The finished product is a joyful tambourine player. Photos by Rachel Cannon Lewis.
The hand painting studio was my favorite part of the tour. Intricate designs, like the one above, are sketched onto vellum and then perforated with a needle. After being positioned on the piece of furniture, they are dusted with a light powder in order to transfer the design. From there, it is all up to the individual artist to bring the design to life, and thus, no two are exactly alike.
Hickory Chair's Murano Chest is one of my all-time favorite casegoods, and here, an artist applies a custom-requested gold line to the interior of the blind fretwork on the front of the drawers. Hickory Chair will customize almost every piece in its catalog. Photo by Rachel Cannon Lewis.
An Eaton Chair (perhaps my ultimate favorite chair) receiving the first of its layers of "clothes" - a tailored skirt with greek-key trim at the hem. Photo by Rachel Cannon Lewis.
Designers love Hickory Chair because they will pretty much make anything in their line to your exact specifications. To that end, they are one of the most popular Customer's Own Material (COM) destinations for those of us in the trade. That means you can send them your fabric and they'll upholster it on their frame for you.
These bins are full of COM for upholstery. Hickory Chair happily receives an average of 450 bolts of fabric A DAY for its clients' detailed and specific upholstery instrucitons. Photo by Rachel Cannon Lewis.
I wanted to take this sapphire blue velvet Marler Apartment Sofa home with me! Photo by Rachel Cannon Lewis.
Once a piece is fully upholstered, it is lint-rolled and steamed to release any wrinkles in the fabric. This sofa was just about ready to ship. I wanted to touch it SO BADLY, but I refrained!
Every department of the factory we visited was alive with energy and excitement. The Hickory Chair craftsmen and women take their jobs very seriously, and are dedicated to creating beautiful, made-to-last furnishings that their customers adore. My eyes were opened to the incredible skill and composure required by their employees to meet the demands of us crazy designers!! What amazed me, though, is that they not only meet our requests with a smile, they welcome them.
Now that I've witnessed, first hand, the way Hickory Chair is always looking for ways to better its process and product, I am dedicated to adding value to my clients' lives by improving my process. My "product" is not only the design, but the experience I give to them. I went to Hickory Chair University expecting to learn how well-made furniture is created, and I left with a plan of action for my own business. And also, a deeper appreciation for all things that are not "instant."
Here are some examples of Hickory Chair in my own work:
Mariette Himes-Gomez Made-to-Measure Bistro Banquette
Nanette Slipcover Chair and Lindsey Chairs
Solenne Chaise
Sutton Sofa